Your Guide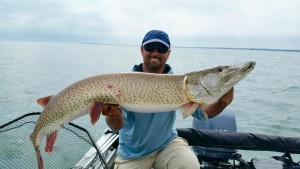 Captain Eric Grajewski spent much of his youth spin fishing on Lake St. Clair (LSC) and rivers throughout the upper and lower peninsulas of Michigan. As he got older his passion for fly fishing grew and streamer fishing was a huge part of that. After graduating from college he moved back to the lake he grew up loving. Combining his love for fly fishing and Lake St. Clair, it seemed like the perfect fit and it WAS!
Having spent many years fishing LSC he has a vast knowledge of the lake and the experience to chase species such as musky, pike, smallmouth and largemouth bass, white bass, and sturgeon. But what he specializes in and loves to do is chasing musky with a fly rod!
The main objective for most on any guided trip is to catch fish and with his years of knowledge of LSC he will always be in the correct areas to give a client that chance, but it is also an opportunity to gain knowledge of streamer fishing, techniques on how to catch many of these species of fish, and most importantly how to properly handle and care for them so they can be caught for years to come.